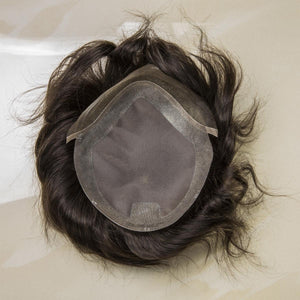 Our "Rolls-Royce" of Hair Systems!
The Super Jewel Lace Front is our MOST NATURAL Hair System EVER! It is made of a top-quality micro-monofilament base, with a very thin 1″ width polyurethane perimeter, along with a durable Lace Front. This system creates the MOST NATURAL look due possible to its invisible knots. Because of the hidden knots, your scalp will show through the hair, and no one will be able to see that you are wearing a Hair System! The Super Jewel is ideal for backward hairstyles, or for men who are very concerned with their front hairline!
This system is entirely single-hair knotted.
In Stock: Human Hair
Stock Sizes: Medium (9″ x 7″)
Stock Density: Thin/Medium
Custom Made: Click Here for Custom Made

**Please note - the color of hair in the product photo does not reflect your color choice. The photo is to show the base and construction of the Hair System.**