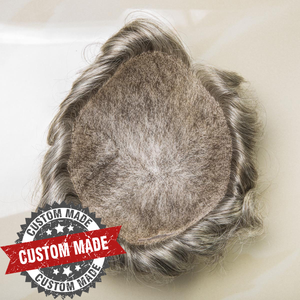 **IMPORTANT - Please note that the price displayed for Custom Made Hair Systems is a "starting at" price. The final price will be determined based on your specific order requirements. Once you have submitted your order, we will contact you to review the details and provide you with the final price.**
**All specifications like color, density, wave, and additional instructions will be discussed when we contact you to review the details and provide you with the final price**
The Sensation is ideal for men 55 years and older!
Thin density, without seeing any knots!
Remember: When a man gets older, his hair density should get thinner, not fuller like a 20-year-old.
Completely undetectable!
This piece is made of a single layer of monofilament base, to make it as thin and lightweight as possible! Each hair is single-hair hand-knotted. The base can be cut down for quick customization to any size!
If you are interested in a Stock Sensation Hair System - Click Here

**Please note - the color of hair in the product photo does not reflect your color choice. The photo is to show the base and construction of the Hair System.**