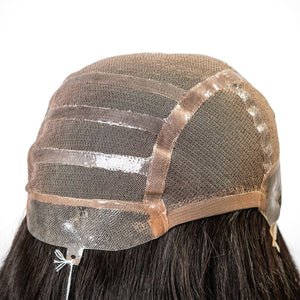 Here is our latest innovation for Women undergoing Chemotherapy, Alopecia, or any other kind of total hair loss.
Invented by Bodo, owner of HPH Corp. Bodo was also the original inventor of the first silicone breast prosthesis form for women suffering from a mastectomy (Patented April 29, 1980 - US4199825A).
Fully Hand-Knotted. The Cap is very smooth and soft to avoid any irritation to sensitive skin. Built-in non-slip silicone strips on the base for a secure fit and to hold the wig in place, instead of strong chemical tapes and adhesive glues.
From the top, each hair looks like it's growing out of the scalp! Extremely Natural!
With the purchase of any "Hope" Wig, you will get a FREE New Generation Stock Wig as a Transition wig for you to use while waiting for the custom-made "Hope" to be finished.
Custom Made Only: Quoted Prices - Please get in touch with us for further information and ordering.