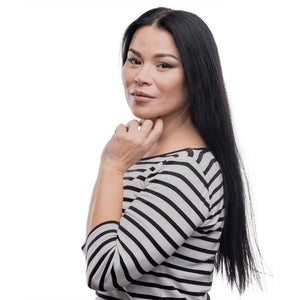 Long Hair Wig Erica. Top Micro-Monofilament with Single Hair hand-knotted Adjustable Size. Very Lightweight (compared to other wigs).
Alternative to Hair Extensions! Or custom-made to your specifications.
Stock
Hair: Human Hair (19" length), Synthetic Hair (21" length)
Colors: 11 colors in stock
Density: Medium
Size: Adjustable 21" - 23" circumference
Hair Length: 19" (Human Hair), 21" (Synthetic Hair)
Custom Made: Quoted Prices - Please get in touch with us for further information and ordering.