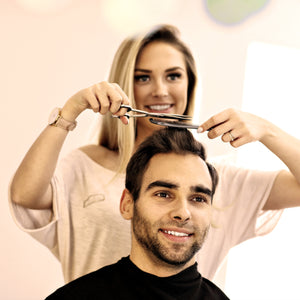 Purchase registration for our next scheduled HPH 1-day Wholesale Training Seminar.
| | |
| --- | --- |
| Seminar | $599.00 |
| minus travel allowance (use coupon code "TRAVEL") | -$200.00 |
| Package "Bronze" | $399.00 |
includes:
*Free air round trip ticket for 1 person (for USA customers), Max. $200, ** see flight listing through Elizabeth, International customers and customers traveling by car please deduct $200.00 as an allowance for your air ticket!
Free video for salon owners (How to sell and how to cut in a hair system)
Speaker: Bodo Stylist: Sigi Value $250.00 Length: 60 minutes
Free video (for your customers): About "HPH Hair Systems," swim, jet ski, how to take care of, etc.
Length 5 minutes, copies available for $5.00/video. Your name and telephone # - Extra Cost! ($35.00 one time fee)
Gourmet lunch in one of our finest restaurants in Cape Coral.
1 HPH Color Ring with 48+ colors (value $20).
1 Free "HPH Transbase Hair System" (Sample) (Retail Value: $790.00)
1 Day Seminar in our own Academy in Cape Coral
We will teach you:
How to sell a Hair System- Men or Women (5 golden rules to a sure sale)
How to make an easy pattern with the new patent-pending "HPH Measuring Cap" in only 2 minutes without any tape or saran wrap!
What to know and how to watch for the right color selection
What attachment system to use for each client (tapes, clips or bonding, etc.)
When to use human hair, synthetic hair, or mixed hair?
How to write up the hassle-free/no aggravation "HPH Order Form" (our order form is much easier than all other complicated forms you have seen before!)
When to recommend to your customers an HPH stock piece or when it is really necessary for an HPH custom made piece.
In our own HPH Hair Replacement Salons, we are selling up to 75% stock pieces because of the new revolutionary "Transbase" Hair System which we manufacture and stock in sizes S, M, and L for immediate delivery. That means no more 6-8 week waiting time for your customer and Money right away in your pocket!
How to perform a super, natural hair cut nicely layered on top with an invisible front hairline!
Style hair backward, it looks like the hair is growing out of the scalp.
How to apply "4-week bonding" with only 3 minutes of cleaning time.
How to apply "4-week bonding" on a full net base (monofilament) without taping first, within 2 minutes!
How to get curls out of synthetic hair without damaging the hair, and also how to get curls in!
How to change the feeling of synthetic hair to the nice soft feeling of human hair.
Why our "HPH %100 European Human hair" is better than 100% Chinese human hair (It's finer, and keeps the color longer).
How to take care of repairs on any hair-systems incl. adding hair, poly repair, etc. (Your cost $99 - Customer pays $150 - $199)
How to recommend to your customers to leave the tapes in the hair system for 2 weeks and what to watch for when they remove the tapes.