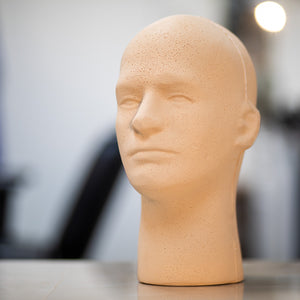 Very Special Offer:
Only $399! one time per salon only + shipping/handling
($20 USA) ($35 International)
Regular price of all below products $1200!!! Even at $399 this is below our cost to produce the items included in the starter kit!
1 x Diamond (synthetic hair) (Wholesale price $99—retail price $299-$499)
1 x Skin Replica (100% human hair) (Wholesale Price $129—retail price $399-$599)
1 x Bonding Transbase (100% human hair) (Wholesale Price $169—retail price $499-$799)
1 x Sensation (100% human hair) (Wholesale Price $149—retail price $699-$899)
1 x Super Jewel Lace Front (100% human hair) (Wholesale Price $189 -retail price $899-$999)
1 x Men Color Ring (48+ colors). Ideal for 100% human hair or synthetic
1 x Measuring Cap (can be cut down to any size) and Full Wig measuring sheet for custom orders.
1 x DVD 60 min., "How to sell and cut/style hair systems" (Regular cost for salons in the U.S. is $199)
1 x DVD 5 min., from Bodo (the owner) demonstrating how you can swim, dive, ride Jet Ski, shower, etc. using your undetectable hair systems!!! Very Natural! You can introduce this video to your customers. Very Impressive!
1 x Photo DVD with many images of hair system customers (before and after) for salons only, which can be used for your own brochures, posters, newspapers, etc.
Advertisement sample material for newspapers, magazines, etc.
Variety pack of accessories, of which you should have. Please go to our webpage www.BodoUSA.com where you will find the accessories that will be included in the packet: 102, 104, 106, 112, 115, 116, 117, 118, 201, 202, 204, 205, 303, 401, 402, 404, 405, 406, 408, 501, 502.
Acrylic Desk Display with Before & After Photos (8″x10″).
Also available:
"Bodo" Men's Full Transbase Wig
Wholesale price $159 Synthetic Hair
Request pricing for Human Hair
Price for your customer $869
P.S.: If you would like to order the Transbase "Bodo" Full Wig in this packet, which is used for customers who do not have any hair like Alopecia, add $100 per wig in synthetic hair (looks like human hair).